High-Quality Veterinary Care
×
We've missed you!
We are excited to announce that we are opening for In-Hospital appointments beginning again. You and your pet are welcome to join us for a traditional In-Hospital appointment, or if you prefer, we will continue to offer Curbside care as well.
In order to continue to keep our staff and clients safe, we have a few requests:
All clients are required to wear a mask in the exam room. If you do not have a mask with you, we are happy to provide one!

Please, only 1 adult per appointment

All medication and prescription diet pick-up's as well as technician appointments will be provided curbside as our lobby space is very limited.

Please continue to be patient and kind to our staff. The team has endured many protocol changes to be able to best serve our community and we ask for your understanding as we once again implement these new protocols.
Appointments or Surgery Check-in
For technician appointments or if you wish to remain Curbside, simply park and call to check-in. We will contact you shortly to begin the appointment process.

For In-Hospital visits, we invite you to enter at the front door and proceed to the lobby for check-in as usual. We will escort you to an exam room as quickly as possible.
Food and Medication Pick up
Please park and call to let us know that you have arrived. Please stay in your vehicle. We will bring your items directly to your vehicle. We recommend prepayment over the phone prior to arrival to expedite the process.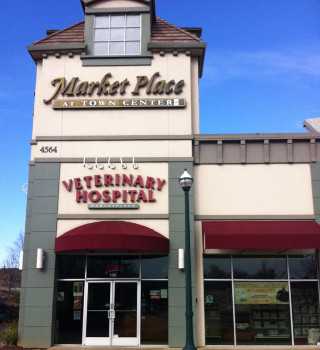 MarketPlace Veterinary Hospital offers high-quality medical care for cats and dogs in El Dorado Hills and the surrounding community. We are committed to providing the highest standard of care for your pet so they can enjoy a long, happy, and healthy life with you.
At MarketPlace Veterinary Hospital, we truly enjoy getting to know our pet friends. We have a team of great doctors and staff members that go the extra mile to ensure your pet receives personalized treatment based on their individual health needs. We take the time to listen to your questions and concerns, and we work hard to build a friendly relationship with you and your beloved pet. Our ultimate goal is to give your pet access to the best quality medicine possible.
We offer a broad range of veterinary services including:
MarketPlace Veterinary Hospital welcomes walk-ins for sick pets and/or emergency cases who need specialized care during normal business hours. We also encourage New Clients to stop by for a visit and get to know our team. We look forward to meeting you!
Call us today to schedule an appointment or learn more about our veterinary services.