New Puppy and Kitten Veterinary Care
New puppies and kittens are a bundle of joy! At MarketPlace Veterinary Hospital, we warmly welcome new additions to your pet family and offer high-quality care to get them on the right track to good health as early as possible. Please bring your puppy or kitten in for a wellness visit during their first months at home with you. Our doctors will go over how to take care of your growing pet, offer advice on proper nutrition, and make sure you are current on all vaccinations.
---
Early Pet Wellness Care
Your new puppy or kitten's initial wellness exam helps us establish a baseline health status for your pet and is a good introduction to the benefits of quality veterinary care. Regular checkups can diagnose potential medical conditions that require prompt treatment to ensure a full recovery. A wellness visit includes the following:
Complete nose-to-tail physical exam
Vaccinations—Core vaccines for puppies and kittens start at six-eight weeks of age (although they can be administered as early as four to six weeks of age).
Heartworm preventive
Intestinal parasite screening and deworming
Nail trims
---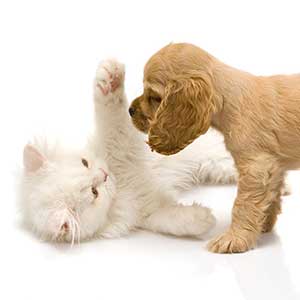 We provide comprehensive Wellness Plans for puppies and kittens with broad veterinary care options and exclusive discounts.
The MarketPlace Veterinary Hospital team will provide a detailed health assessment of your new pet after the first visit. Please let us know if you have any questions or concerns about your puppy or kitten. We are happy to discuss feeding/eating habits, behavior expectations, and potty training. We also provide microchipping services, which offer indispensable peace of mind if your new pet gets lost.
To schedule a wellness appointment for your new puppy or kitten, please call us.