Staff
Heather

Hospital Manager
Heather has always loved animals and became interested in the veterinary field as a child thanks to her father's copies of James Herriot's "All Creatures Great and Small" series. She graduated from UC Davis in 2007 with a BS in Animal Science and Management and began working at a feline specialty hospital as a technician assistant. Heather and her husband have a full house with their two dogs, Rose and The Doctor(Doc for short), and three cats: Cupid, Cassidy, and Mowgli. Though she enjoys animals of all kinds, she has a special place in her heart for our feline friends.
Danielle

Registered Veterinary Technician
Danielle has been working in the veterinary field since 2009. Originally from the Bay Area, Danielle feels privileged to have been able to work in many aspects of the veterinary field. This includes working in emergency medicine, surgery, equine, and general practice. She loves the challenge of working in the veterinary field, where you must be able to adapt to the changes as medicine is constantly evolving. Though she won't deny that being able to play with puppies and kittens is always a plus. In her off time, Danielle competes in a variety of dog sports with her working Belgian Malinois.
Maddie
Maddie started her journey in the veterinary field as a high school intern through the El Dorado School District's Regional Occupational Program. She has a special interest in surgery and loves Great Danes. She will be continuing to further her career in veterinary medicine this fall as she enters into a pre-vet undergraduate course.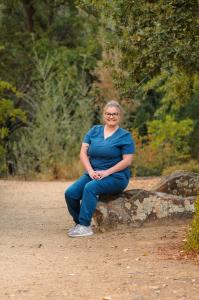 Frances
Frances has always had a love for animals, but her true passion began when she started volunteering at the Folsom City Zoo Sanctuary during high school. Her interest and enthusiasm led her to become a Zookeeper, then further inspired her to become fascinated with veterinary medicine. She continues to find working in this field greatly rewarding and appreciates all members of the animal kingdom.
Brooke
Brooke has always had a passion for animals of all shapes and sizes. She began her furry friend journey 8 years ago when she started working in the grooming department at Petsmart, which later led her into the veterinary field. She spent her first years in an exotic animal clinic, which included working with birds of prey of all kinds, including bald eagles! She spends the rest of her time living life to the fullest with her beautiful german shepherd, Lyla Bear :)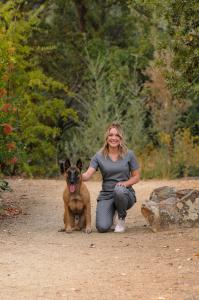 Steffanie
Steffanie can always be found making new furry friends wherever she goes. As a proud fur-momma of 2 Cane Corsos, and growing up with Rottweilers, large breed dogs have a special spot in her heart. That's not to say she doesn't indulge in snuggles from the little ones and she loves kitty purrs. Every chance she gets, Steffanie sneaks a patient up to her front desk so you might hear a few barks or meows when she answers the phone.
Ana
Ana has been involved in the pet industry since she was 15 years old. First, as a volunteer with rescues, zoos, and an equine therapy facility. Her first job in the industry was at a pet store, working with all the different animals and helping new owners get what they needed. Ana enjoyed working with a variety of pets as well as learning about the different animals needs and care. She is excited to be learning more about the medical side of the pet industry and working with Steffanie at the front desk. She is also the proud pet mom of four fur-babies.