Pet Safety Tips for Halloween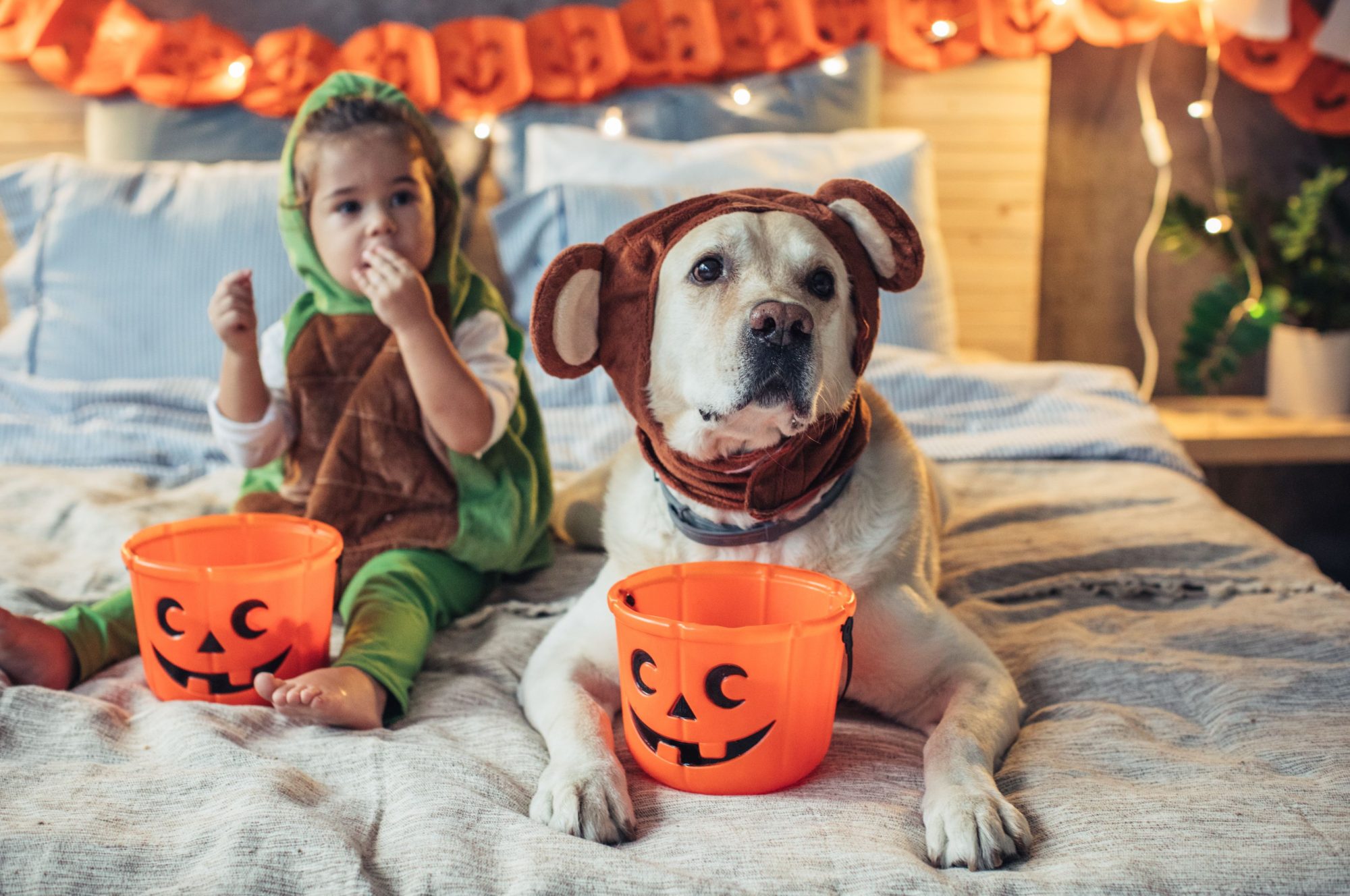 The Halloween season is here—a time for trick or treating, decorating with pumpkins and mums, and sipping warm cider by a roaring fire. Keep in mind these Halloween pet safety tips from your friends at MarketPlace Veterinary Hospital, and your cats and dogs can have a safe, enjoyable Halloween too!
Tame Your Pet's Anxiety
Not all dogs and cats like to dress up like ladybugs and parade around the neighborhood. You know your pet better than anyone, so if a perpetually ringing doorbell or masked "beggars" will make Halloween a frightful night for your furry companion, consider the following tips for reducing your pet's anxiety:
Stay in your front yard or driveway to greet all those little goblins so they don't have to ring your bell or knock on the door.
When entertaining guests, keep your pets in a quiet room with food, water, and a litter box (for cats).
Leave nervous animals at home when trick or treating.
Don't wear your Halloween mask when interacting with your pet.
Hide the Candy!

Your candy bowl is full of goodies for people but is strictly off-limits for pets. Many popular Halloween hand-outs contain chocolate, which is very dangerous for cats and dogs. And sugar-free candies can contain xylitol, a sugar substitute that is highly toxic to animals. If your cat or dog eats something toxic, contact Marketplace Veterinary Hospital immediately, or call the ASPCA Poison Control Center at (888) 426-4435.
Keep Your Décor Safe and Simple

Opt for battery-powered illumination to minimize the risk of your pet knocking over a lit candle or being burned by a real flame. Be mindful when decorating with live foliage. Tiny pumpkins and field corn may just cause mild tummy upset if pets nibble on them, but chrysanthemums (mums) are toxic. Also, for some pets, wires resemble playthings, so keep extension cords hidden or use battery-powered decorations when possible. 
Pet Costume Considerations

We can't talk about Halloween pet safety without discussing costumes! Unless your pet truly loves to play dress-up, it's best to forego the tiny hotdog costume. But if your pet is all-in, make sure the costume does not hinder movement, sight, or her ability to breathe or vocalize. Check for tiny pieces that she could ingest or choke on, and ensure that the costume fits properly. Do a trial run with any new costume, and if she seems distressed, let her go au naturel or choose a Halloween-themed collar or bandana instead.  
Make Your Pet Easily Identifiable

Halloween can be fun but chaotic! Keep your pet close and leashed. Make sure your pet is wearing a collar with proper ID tags in case she gets separated from you. A permanent microchip can give you the best chance of being reunited with a lost pet. 
We want you and your pets to enjoy a safe and festive Halloween. Contact us for more Halloween pet safety tips!